FACILITY

Tours・Facility Introduction
Shop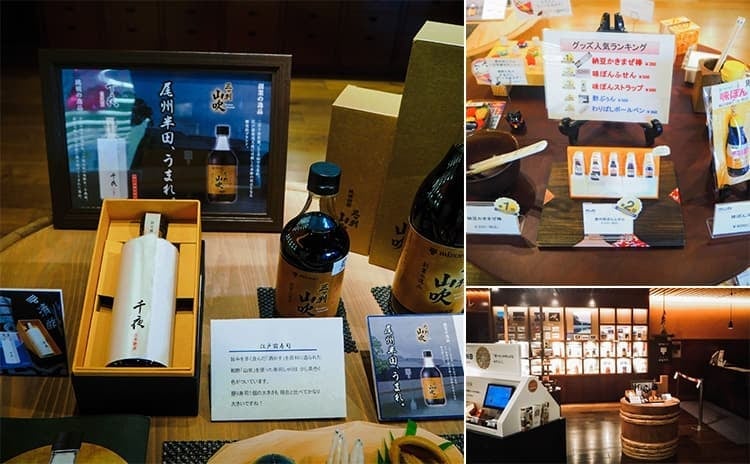 In the MIM Shop you can purchase exclusive limited edition vinegar and fun, original Mizkan goods.
Admission

Free
(only open to visitors with a tour reservation)
Open

9:30〜17:00

Please contact us before your visit, as the shop may not be accessible due to special events.
Pure sake lees vinegar Mitsuban Yamabuki

This is Mizkan's original premium vinegar made from matured sake lees. It has a mellow and rich taste.

Senya

A MIM Shop exclusive, this limited edition vinegar is made by maturing Mitsuban Yamabuki for an additional three years.

ZENB Series

Food, rediscovered.
Wholesome, plant-based products and veggie-based snacks, which include parts of the vegetables traditionally overlooked, like skin, seeds, and stems, without relying on additives.
*ZENB products may vary depending on availability.

Dressing Vinegar

Selling since 1964.
A seasoned vinegar with an apple cider vinegar base and flavored with aromatic spices. You can create homemade dressings by adding oil, or use it as-is on salads and fried foods.

Vineguitto Series

These six-times concentrated vinegar drinks can be enjoyed mixed with still or sparkling water, milk, or in cocktails.

Natto Stir Stick

MIM Shop's #1 bestseller!
Make your Mizkan natto (fermented soybeans) even more delicious by mixing it with this purpose-made stir stick!

Ajipon Series

Ajipon has been a much loved Mizkan brand since 1964. Enjoy Ajipon anywhere with these cute key chains and sticky notes.

Toro Mame Natto Series

Sticky notes and Japanese washi tape bearing the cute packaging design of Toro Mame Natto (fermented soy beans) are sure to bring a smile to your face.

Traditional Apron

You will feel like a true craftsperson when you wear this indigo-dyed apron which is made in Japan and features Mizkan's traditional design.

Kokumotsu Su Bottle Cover

A cute bottle cover with a convenient clip. This unique product is a MIM Shop exclusive, featuring the label design of our well-known Kokumotsu Su (grain vinegar), and makes it appear as if you are drinking vinegar!